Film50: Fifty Years of Collecting Film at Yale
"Yale has begun its own film archives by acquiring the Griggs Collection of Classic Films, Provost Charles Taylor announced yesterday."
—Reid Detchon, Yale Daily News, April 5, 1968
Throughout 2018, Yale celebrated fifty years of collecting film, a practice that began with the University's acquisition of the John Griggs Collection in 1968. Later known as the Yale Collection of Classic Films, it consisted of more than 200 16mm prints, mostly American silent films such as BROKEN BLOSSOMS, THE GOLD RUSH, and THE PHANTOM OF THE OPERA, and twenty films from abroad including BATTLESHIP POTEMKIN, METROPOLIS, and THE PASSION OF JOAN OF ARC. Described as "one of the finest private collections of classic films in the country" by the Yale Daily News in a front-page story, its acquisition generated national press coverage and headlines such as "The Old Silent Films Make History at Yale" (New York Post) and "Chaplin, Keaton, Valentino Going To Yale—On Film" (Chicago Sun-Times). Learn more about the John Griggs Collection here.
In the 50 years from 1968 to 2018, the University's film archive grew to include nearly 6,000 35mm and 16mm titles spanning more than 120 years of cinema history. Overseen by the Yale Film Archive, formerly known as the Yale Film Study Center, an Associate of the International Federation of Film Archives (FIAF), the collection continues to support teaching, learning, and research by Yale film scholars, and contributes to a robust film culture at Yale that includes an extensive exhibition schedule and a growing film preservation program.
Read an article about Film50 in the Yale Daily News.
Read the Film50 press release.
Yale Collection of Classic Films: 50th Anniversary Screening & Reception
As part of our ongoing Treasures from the Yale Film Archive screening series, the Yale Film Study celebrated the 50th anniversary of the acquisition of the Yale Collection of Classic Films with a screening and reception on Friday, February 23. The night featured 16mm selections from Yale's oldest film collection, including THE MARK OF ZORRO with Douglas Fairbanks and THE BALLOONATIC with Buster Keaton, presented with live musical accompaniment by Donald Sosin.
Friday, February 23, 2018
5:30 p.m. Reception, 7 p.m. Screening
Whitney Humanities Center
53 Wall Street
New Haven, CT 06511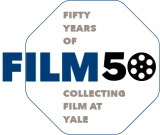 Last modified:
Thursday, April 6, 2023 - 11:15am