Library Collection Services
All materials shelved at LSF are retrievable upon reader request, although in the case of some special collection material these requests may be mediated by Library staff.  The service commitment observed by LCS staff requires them to retrieve and deliver items to designated library service sites within one working day from when the request was placed (Monday through Friday).  The LSF sets no limits on the number of requests a patron may place for material shelved off-campus: all circulation parameters are determined by the on-campus library which owned the material prior to its transfer off-campus.
In addition to the retrieval and delivery of physical materials, since October 2012 LCS staff have been providing scans of general collection materials shelved at LSF, both for e-reserves and for Yale patrons through the Scan-and-Deliver program.  In January 2015, the LSF scanning program will be expanded to include fulfilling ILL requests for scans of materials shelved off-campus.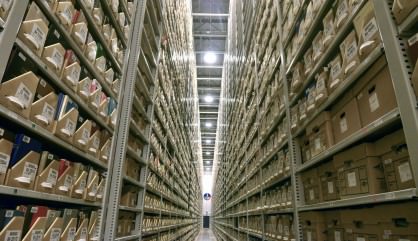 Last modified:
Thursday, January 28, 2021 - 2:26pm