Library Collection Services
Transfers/Size and weight information
The Library Shelving Facility (LSF), which is operated by the Library Collection Services unit (LCS), provides secure off-campus storage and transport of materials for the Yale University Library system.
Process for requesting transfer of material to LSF
Preparation for each year's transfer begins at the end of the previous fiscal year in May. At that time, the LCS Manager solicits proposals from all library units concerning the materials they wish to transfer to LSF in the coming year.
Units are requested to share information about the material they wish to transfer, including a description of the material type (bound volumes, DVDs/CDs, microfilm, videos, film, archival boxes, etc.) and information concerning the size of the material (e.g. oversize volumes, Paige boxes, etc.).
Each unit is asked to include a brief explanation of the need to transfer their specified materials in the coming fiscal year (preservation concerns, maintenance of current shelf occupancy levels, etc.). This information is used to prioritize transfer requests in instances where the total proposed transfer workload exceeds the available resources.
Units are also required to provide an accurate estimate—in either linear feet or number of items—of the quantity of material of each material type. Below is additional information regarding the size of material LSF can accommodate.
When considering transferring items to LSF, units should also be aware of the various types of transport containers LCS uses for the movement of material to and from campus locations. Please refer to the complete list of LSF Transport Containers
Size restrictions
Size and weight limitations for LSF transfers are based on Environmental Health & Safety recommendations and the size of shelving available in the facility.
Any printed material that is larger than 12.25" wide and 16.25" tall will not be shelved in a tray but will be shelved directly on a shelf.
Standard Size Items and Non-Standard Size Items
Overview:
Standard size items refer to those that adhere to commonly accepted dimensions and specifications, allowing for predictable usage of shelves and space at LSF. On the other hand, non-standard size items deviate from these conventional dimensions, requiring special considerations. In this document, we will explore the five common types of standard size items and provide visual representations of each to enhance understanding. All archival boxes sent to LSF should be in good condition with no tears or broken handles.  Additionally, we will provide visual representations of some non-standard size items as well as allowable dimensions for non-standard items.
Standard Size Type 1: Paige Box, Banker Box, or Number 5 Paige box
Standard (Number 5) Paige boxes can be sent to LSF but cannot exceed 50lbs and the handle holes should be clear from obstruction for staff to use safely. The dimensions of a standard Paige box are 16 ½" long, 13" wide, and 10 ½" tall. The image below depicts the standard Paige box:
Standard Size Type 2: Standard Hollinger box, Grey Archival box, Letter size grey archive, legal size grey archive
Hollinger boxes can be sent to LSF with the following dimensions: standard Hollinger boxes are 15 ½" long, 5" wide, and 10 ½" tall for legal and 12 ½" long, 5" wide, and 10 ½" tall for letter.  Below is an image of a legal-size Hollinger box: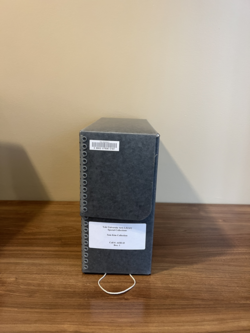 Standard Size Type 3: Large Paige box
Large Paige boxes can be sent to LSF but cannot exceed 50lbs and the handle holes should be clear from obstruction for staff to use safely. The dimensions of a Large Paige box are 17 ½" Long, 14" wide, and 15" tall. The image below depicts the standard Large Paige box: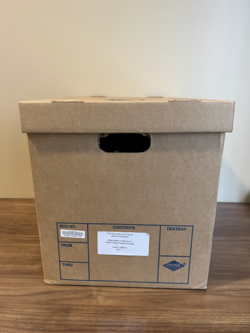 Standard Size Type 4: Large Hollinger Box
Large Hollinger boxes can be sent to LSF with the following dimensions: 15 ½" long, 5" wide, and 12 ½" tall. Below is an image of a Large Hollinger box:
Standard Size Type 5: half archive boxes
Half archive boxes can be sent to LSF with the following dimensions: 12 ½" long, 2 ½" wide, and 10 ½" tall for letter size, and 16" long, 2 ½" wide, and 10 ½" tall for legal size. Below is an image of a half archive
box:
Non-Standard Size Items
LSF can accept Non-Standard size items, however they are limited to any item that is 1-6" thick and a dimension of 16"x24" that weighs no more than 35lbs. LSF may in the future be able to accept slightly larger non-standard items, but units should consult with the LSF manager. The image below is a typical non-standard item:
Last modified:
Wednesday, August 16, 2023 - 3:55pm