Today's Hours
| | |
| --- | --- |
| Divinity Library | 8:30am – 4:50pm |
| Special Collections | 9am – 4:50pm |
| Ministry Resource Center | 12pm – 5pm |
Recent Acquisitions
The recently processed collection consists of sixteen Oxyrhynchus Papyri items. The most notable papyrus fragment (Oxy. P. 1230) relates to the New Testament text of Revelations 5,6. Other items include poetical and prose fragments, orders, contracts, receipts, letters, and a prayer. The items date from the 1st century to the 6th century. The Oxy. P. 1230 item is Papyrus 24 in the Gregory-Aland numbering system. It is a papyrus manuscript of the Book of Revelation, which contains only Revelation 5:5-8; 6:5-8. The manuscript paleographically has been assigned to the early 4th century.
Last modified:
Tuesday, February 5, 2019 - 9:50am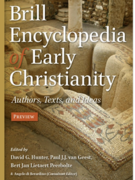 The Library now subscribes to the Brill Encyclopedia of Early Christianity Online
This online resource focuses on the history of early Christianity up to 600 CE and provides a critical review of the methods used in Early Christian Studies, covering iconography, martyrology, theological traditions, and cultic phenomenon.
This exhibit draws on the holdings of the Divinity Library's Day Missions Collection to illustrate methods of spreading the Christian message through evangelization, educational work, medical work, public health activities, relief work, translation, literature distribution, and so forth. On view until August 30, 2019.