008  -- General Description (Visual)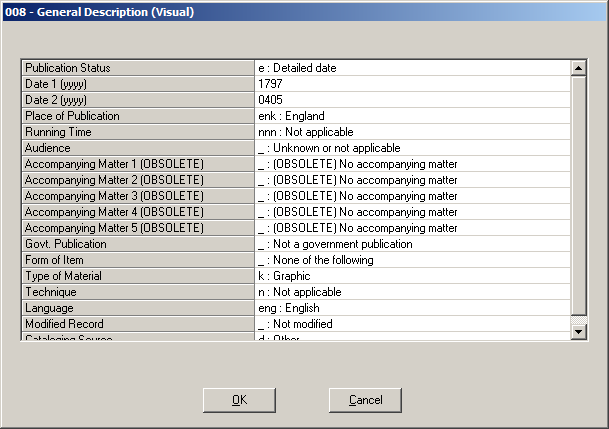 Publication Status (Type of date) : Valid Code Required
| | |
| --- | --- |
| Single part/multipart items complete in one year | Collections/multipart items complete in more than one year |
| b   B.C. date | b   B.C. date |
| r   Reprint/original date | i   Inclusive date |
| e   Detailed date | k   Range of dates |
| s   Single date | r   Reprint/original date |
| p   Distribution/production date | m   Initial/terminal date |
| t   Publication date and copyright date | t   Publication date and copyright date |
| q   Questionable date | n   Unknown date |
| n   Unknown date |   |
Single items (Leader/Bibliographic level m or a):
e : Detailed date. Detailed date which contains the month (and possibly day) in addition to the year is present.
Example: Imprint on etching "Pubd. May 27th 1795 by H. Humphrey"
s : Single known date/probable date. Single known or probable year represented by four digits.
q : Questionable date.  For a single item when the exact date is not known but a range of years for the date can be specified (e.g. between 1824 and 1846).
Collections (Leader/Bibliographic level c):
i : Inclusive dates of collection. Code for a span of dates. Record bulk dates, if appropriate, in 264 |c. For several things with one date (e.g., several photographs, same day and/or year but created separately), use i and repeat the date in both Date 1 and Date 2.
m: Mutiple dates. Code for two distinct years that do not comprise a span.
---
Date 1 (yyyy) /Beginning Date of Publication Required
Date 2 (yyyy) /Ending Date of Publication Required for Publication status e, q, i, or m
The date (i.e. year) consists of four digits. Missing digits are represented by the letter u except when an item issued over a period of years is incomplete when 9999 is entered in Date 2.
For Publication status s, leave Date 2 blank.
If the date on the item is misprinted or wrong, put the correct date in the fixed fields and the 260 field as instructed for that element.  A date in Date 1 and 2 should always match 260 ‡c.
For exact dates, put the year in Date/1 and put the month (MM) and day (DD) in Date/2:
| | |
| --- | --- |
|       Example:  |  264 ‡c 9 May 1789 |
|   |  Date/1 1789 |
|   |  Date/2 0509 |
---
Place of publication, production, or execution  Valid Code Required
The choice of the MARC code from the dropdown menu is related to information in field 264 ‡a.  Three fill characters (‡‡‡) may be used in place of a valid code, but their use is discouraged.  When fill is used in 008/15-17, all three positions must contain the fill character.
For visual materials, if the work is a multi-country production, the code for the first country is recorded in 008/15-17.  The code for the first country is repeated in field 044 (Country of Producer Code), followed by the codes for countries of other bodies involved in the production.
xx#  [Place is completely unknown]
vp#  [Various places]
---
Running Time Valid Code Required
For visual materials (two-dimensional, not a motion picture or a videorecording) use 
nnn  : Not applicable
---
Audience Not Required
For all original or historical graphic material use:   _ : Unknown or not specified
---
Accompanying Matter (Obsolete) Leave blank (__)
For visual materials use: _ :  (OBSOLETE) No accompanying matter
---
Government Publication Not Required
For visual materials generally use:
_:  Not a government publication 
If you are cataloging a government publication, consult the MARC codes for appropriate level.
o:  Government publication-level undetermined (check the BSR).
---
Form of Item  Valid Code Required
For visual materials use:   _ [None of the following]
---
Type of Material   Valid Code Required
Choose the appropriate code for the material from the drop down menu. Refer to MARC Standard for description of the terms types of materials.
For prints and photographs use:   k : Graphic
For drawings and paintings use:  a : Art original
For reproductions of drawings and paintings use:  c : Art reproduction
For reproductions of non-art, e.g. photographs:  i : Picture
---
Technique  Valid Code Required
For visual materials use: 
n : Not applicable
---
Language  Valid Code Required
Choose from the dropdown menu of USMARC Code List for Languages the code for the predominant language in the item or collection. If there is no text, use:
zxx : No linguistic content
---
Modified Record Valid Code Required
Use default:   _ :  Not modified
---
Cataloging Source  Valid Code Required
Always code as:  d : Other
---