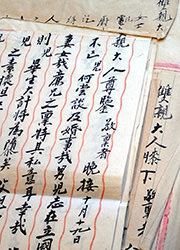 On May 8 the Divinity Library will host a gathering to celebrate the acquisition of the papers of John Sung. Sung (1901-1944) was a renowned evangelist and leader of the revival movement in China in the 1920s and 1930s. The numerous handwritten diaries and letters in this collection, previously largely unavailable to researchers, will be a valued source of information about his thought and work. Selected papers will remain on display in the Day Missions Reading Room until May 23.
The Yale community is invited to attend the gathering in the Day Missions Reading Room, located in the Divinity Library at 409 Prospect Street, at 2:00 p.m. Chloe Starr, Assistant Professor of Asian Christianity and Theology, will speak briefly about Sung, and Timothy Wang, grandson of Sung, will represent the Sung family.
The Yale Divinity Library holds the largest collection in North America of archival and published material documenting the missionary movement and development of Christianity in China.