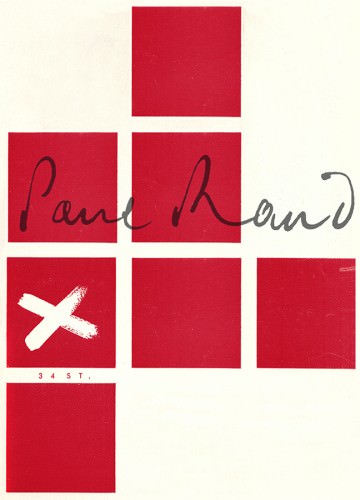 Monday, October 27, 2014 - Friday, January 30, 2015
Sterling Memorial Library, Memorabilia Room
2014 marks the centennial of the birth of legendary graphic designer Paul Rand (August 15, 1914 – November 26, 1996). Rand transformed conventions of visual communication for American businesses and consumer culture, and his corpus spans editorial and book design, advertising, packaging, and corporate identity, including iconic logos for IBM, UPS, Westinghouse, and many others. This exhibition explores Rand's prolific career through a selection of objects drawn primarily from the Paul Rand papers (AOB126), which are now held by the Robert B. Haas Family Arts Library.
The exhibit is curated by Molly Dotson, Special Collections Librarian, Arts Library; Jae Rossman, Assistant Director for Special Collections, Arts Library; Holly Hatheway, Assistant Director for Collections, Research & Access Services, Arts Library.