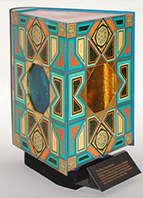 A new project from the Robert B. Haas Family Arts Library allows listeners to hear world-renowned book artist Richard Minsky discuss selected objects from the Richard Minsky Archive. Each interview sheds light on Minsky's creative process and situates the artifacts in the Archive into the picture of his career. Recounted with Minsky's characteristic humor, the interviews are entertaining as well as educational.
The Richard Minsky Archive, held in Arts Library Special Collections, contains materials documenting all aspects of Minsky's career. Many of these pieces are part of a larger story that is not yet recorded of the rise of book arts as an artistic field. Additionally, the archive holds important documentation about Minsky's work to create The Center for Book Arts in New York City, a member-driven, non-profit learning and exhibition space that has been modeled around the country. The release of this new resource was timed to coincide with the 40th anniversary of The Center and related exhibitions of Minsky's work.
This project was a collaboration between Jae Rossman and Molly Dotson of Arts Library Special Collections and Francesca Livermore of Arts-Area Digital Collections. The project aimed to develop a lightweight solution for delivering audio content related to archival collections that can be employed by all special collections repositories in the Yale University Library.