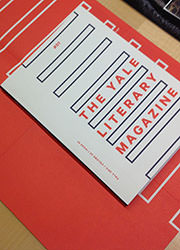 Winners of the 2015 Lohmann & Van Sinderen Prizes in Undergraduate Printing and Design were announced at last Friday's judging ceremony in Haas Family Arts Library Special Collections. This year saw more than twenty entrants and featured a wide variety of personal, academic, and professional pieces made individually and collaboratively. All of this year's participants are to be congratulated on the quality and imagination of their work.
This year's first prize was awarded to Cindy Hwang (BK '15) for her body of work, including a reversible poster for WYBC Radio's Ante-Fling, books for campus publications Dimensions and The Yale Literary Magazine, and a pamphlet for Berkeley College's Commonplace Society. Mariah Xu (SM '16) was awarded second prize for her body of work, consisting of an art book of photographed intersections, a fold-out timeline documenting the life and work of designer Max Huber, and a series of Yale-branded pieces for the Yale Map Collection, in addition to her professional pieces.
Honorable mention was awarded for digital work to David Shatan-Pardo (MC '15 ) for his log of early explorations in automated flag design, as well as for traditionally printed work to Grant Laster
(JE '18) for his Small broadside, Katherine Rosenberg (ES '18) for her Catulli flag book, and Sara Cho (BR '18) for her accordion-style book, The Chair that No One Sits On.
The judges for this year's competition were John Gambell, Basie Gitlin, Rebecca Martz, Emily Monjaraz, Wynne Patterson, Richard Rose, and Jae Rossman.