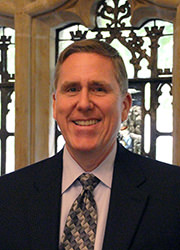 The Yale University Library recently announced the appointment of Martin (Marty) Kurth as Associate University Librarian for Technical Services, a role which includes managing a large and dedicated staff who oversee the acquisition and cataloging of all library materials. Marty was previously the Associate Dean for Knowledge Access & Resource Management Services at New York University Libraries. Since 2010, Marty oversaw technical services at NYU, leading them through a significant reorganization and reconceptualization.
Prior to NYU, Marty held several roles at Cornell University Library, including head of cataloging, head of metadata services, director of digital library & discovery services, and director of information technology infrastructure. Prior to Cornell, Marty worked in the libraries at the University of Wisconsin-Milwaukee, Eastern Washington University and the University of Missouri-Kansas City.
Marty holds a BA in broadcasting & film, a masters in library & information science – both from the University of Iowa – and a masters in English from Eastern Washington University. He has been active at a national level in a number of initiatives and organizations, including The American Library's Association's (ALA's) Association for Library Collections & Technical Services (ACLTS), HathiTrust, and the Program for Cooperative Cataloging (PCC).
University Librarian, Susan Gibbons, commented, "The Yale Library is very fortunate that in the appointment of Marty Kurth as AUL for Technical Services, we gain a national voice coupled with a proven, transformative leader."
Marty can be reached at Martin.kurth@yale.edu