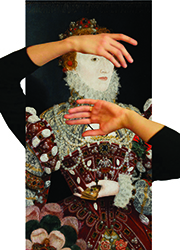 The Whitney Humanities Center auditorium, Thursday, October 8, 5:00 pm
The reign of Elizabeth I saw the rise of Shakespeare's theater, but what did she have to say herself? Dissecting the persona of Elizabeth I through Joycean deconstruction of her letters, speeches, poems and prayers, "texts&beheadings/ElizabethR" is Elizabethan drama in its most literal sense. This presentation is a Compagnia de'Colombari production, created and directed by Karin Coonrod with music by Gina Leishman. A reception will follow.
Sponsored by the Beinecke Rare Book and Manuscript Library.