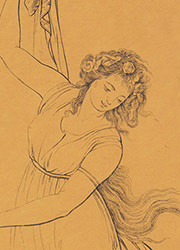 All are welcome to join us for this talk on Wednesday, October 28, 5:30 pm, in the SML Lecture Hall followed by a reception in the Memorabilia Room. The talk is presented in connection with the exhibition "Bawdy Bodies: Satires of Unruly Women" on view at the Lewis Walpole Library, September 24, 2015 through February 26, 2016
In the 1790s, women dressed in imitation of antique statuary. Yet most devotees of the style had never seen the originals they emulated; rather, they were inspired by print representations of them, and this process of translation--from three-dimensional sculptures into two-dimensional paper representations and then back into fabric gowns swathed around moving bodies--created several interesting effects, including a pronounced emphasis on contour. This lecture will discuss the way 1790s fashionable dress was mediated by print, and connect this phenomenon to the contemporary vogue for John Flaxman's outline drawings and other aspects of neoclassical taste.
Amelia Rauser is the author of Caricature Unmasked: Irony, Authenticity, and Individualism in Eighteenth-Century English Prints (2008). Her new project, "Living Statues: Neoclassical Culture and Fashionable Dress in the 1790s-- London, Paris, Naples," is a study of the radical style of undress in the 1790s and its connection to contemporary aesthetic, political, and scientific thought. Dr. Rauser is Professor of Art History at Franklin & Marshall College.
Enter through 128 Wall Street door.