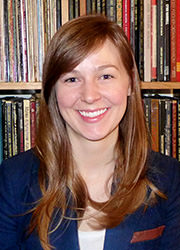 This semester, the SML Exhibits Corridor showcases the research of four exceptional Yale students. Mary Jones, a current Ph.D student in Music History, is displaying a series of letters between record executive Goddard Lieberson and orchestral conductor Eugene Ormandy.  The correspondence reveals the negotiating process of creating a record during the 1940s and 50s, as well as the strong connection between the performing and recording worlds of that era. 
Jones's dissertation focuses on Goddard Lieberson and his time at Columbia Records, specifically during the 1940s and 50s when the emergence of the long playing (LP) record revolutionized the recording industry.  Her research process has proved to be unique, as it has also become a collaboration with the Yale Library. When Jones began exploring the resources available in Manuscripts and Archives, she was struck by both its accessibility and extensiveness; however, the Lieberson Papers had only been partially processed and cataloged. Jones has since worked for Manuscripts and Archives, focusing on cataloging and organizing the Lieberson Papers. Her insights as a historian will be especially helpful for future researchers wishing to explore similar resources in the library.  To learn more about Jones's research, visit the Student Research Exhibit, on view in the Sterling Memorial Library Exhibits Corridor through April 30.
For access to the Goddard Lieberson Papers, please contact the Music Library.