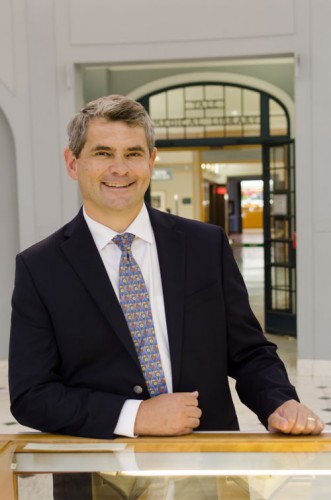 The Yale University Library is delighted to announce the appointment of John Gallagher as the new director of the Harvey Cushing/John Hay Whitney Medical Library.
John joined the staff of the Yale Library in 1999 as a library services assistant in the Library Shelving Facility. He moved to the Medical Library in 2000 where he took the position of evening & weekend circulation supervisor, and was quickly promoted to the head of the circulation department. After completion of his Masters of Library Science in 2004, John was promoted again to the head of Access and Delivery Services. He was instrumental in pioneering and establishing the Scan on Demand service at the Cushing/Whitney Medical Library, which evolved into the Scan and Deliver service for the wider Yale Library system. He served as the library liaison to the Department of Orthopedics and Rehabilitation and co-chaired the library's joint Department Committee for Best Practices, a university-wide initiative to foster and promote better management/labor relations and collaboration through interest-based problem solving. During this time, John also chaired a management/labor Access Services Assessment Task Force that reduced check-in errors at all libraries.
As deputy director for Public Services and later associate director, John oversaw the completion of a number of major medical library renovations, including the Historical Library's rare book stacks and staff areas, the construction of a secure reading room, and the construction of the Cushing Center.
In 2012, John was selected to participate in the National Library of Medicine/Association of Academic Health Sciences Libraries' Leadership Fellowship Program. John's participation in this prestigious and highly competitive program gives testimony to the quality of his leadership abilities.
Susan Gibbons, University Librarian and Deputy Provost for Libraries & Scholarly Communication commented, "John's appointment is fantastic. Not only do we add a talented colleague to the library's senior leadership team, but John's career demonstrates the opportunities for career advancement at Yale University Library."