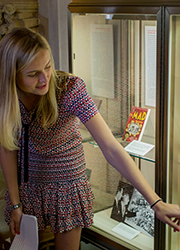 "Senators, Sinners, and Supermen: The 1950s Comic Book Scare and Juvenile Delinquency," a new exhibit in the Sterling Memorial Library Exhibition Corridor, tells the story of the 1950s comic book scare and the Tennessee senator who led the crusade against comic books.  Student curator Stephanie Tomasson (Jonathan Edwards '16) developed the exhibit from her senior thesis for the History Department.  When exploring possible essay topics, Tomasson gravitated towards subjects that would touch upon 20th century American politics, media, and culture.  The comic book scare of the 1950s seemed like a perfect fit.
Tomasson's initial research led her to Estes Kefauver, a Tennessee senator who led the crusade against comic books throughout the 1950s. He argued that comic books, often about violent or criminal activities, were contributing to the rise of juvenile delinquency.  A Mellon grant and additional grants from the History Department allowed Tomasson to visit the University of Tennessee's Modern Political Archives and study Kefauver's papers.  At Yale, Tomasson drew from the collections of the Beinecke Rare Book and Manuscript Library, the Yale University Art Gallery, the Yale Divinity School Library, and Manuscripts and Archives. "I never stopped discovering new information and making new connections," says Tomasson. The breadth of her research topic gave her the opportunity to become very familiar with many of Yale's libraries and their extensive collections. 
Developing her thesis into an exhibit was particularly appealing to Tomasson because of the topic's visual nature.  Curating an exhibit about the comic book scare allowed Tomasson to make visual connections that she could not necessarily explore in a written essay.   The opportunity also encouraged Tomasson to further explore and demonstrate the history of comic books as sources of both entertainment and sociopolitical commentary.  For example, in the 1950s, several political candidates used the comic book medium as campaign advertisements and political propaganda, and Tomasson provides examples in her exhibit. 
Tomasson remarks that David Gary (Kaplanoff Librarian for American History) and Kerri Sancomb (Exhibits Production Coordinator) were especially helpful and supportive throughout her research process.  They provided Tomasson with invaluable insights and suggestions, and also helped her transform her thesis into a visually compelling exhibit. "Senators, Sinners, and Supermen: The 1950s Comic Book Scare and Juvenile Delinquency," will be on view in the Sterling Memorial Library Exhibits Corridor through September 22.