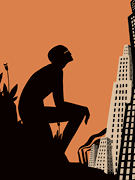 African American literary and artistic achievements are showcased in a new exhibition, "Destined to Be Known: The James Weldon Johnson Memorial Collection at 75," at the Beinecke Rare Book & Manuscript Library. The exhibition runs Sept. 23–Dec. 10 in the library, 121 Wall St. It is free and open to the public.
The exhibition marks the anniversary of the James Weldon Johnson (JWJ) Memorial Collection, founded in 1941 by Carl Van Vechten both as a memorial to Johnson, an architect of the Harlem Renaissance, and as a celebration of the broad accomplishments of African American writers and artists over time. Today, the JWJ Collection is a key archive of African American history and culture.
"The JWJ collection is one of the premier collections of its kind anywhere in the world, and one of the most actively consulted of Yale's extensive collections," says Nancy Kuhl, curator of poetry in the Yale Collection of American Literature (YCAL) and a co-organizer of the exhibition. "Scholars have used it for more than half a century to document, discover, and disseminate important aspects of national and global culture and to create new scholarship to educate present and future generations. We are especially delighted by how frequently the collection is used for classroom teaching and learning and for research by Yale faculty and students."
Read more in this YaleNews article.