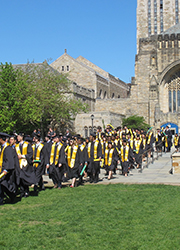 On Monday, May 22, the university will be celebrating its 316th Commencement ceremony, which will affect access to Sterling Memorial Library for several hours, as follows:  
SML will be closed to the public until 3:00pm, when it will reopen until 7:45pm. Bass Library will be open its usual hours, 8:30am-9:45pm.
The book-drops outside SML will remain open until 3:00pm, after which books can be returned inside the building.
LSF and Eli Express deliveries will be suspended all day.
Thank you so much for your understanding and cooperation!