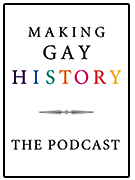 Join Eric Marcus and Sara Burningham on January 22, at 2:00 - 3:30 PM in the International Room in Sterling Memorial Library. They will guide you through their award-winning podcast, Making Gay History, bringing the voices of LGBTQ history to life. Together they will explain how they came to mine Eric's decades-old audio archive of rare interviews to find emotionally powerful and revelatory conversations, and take you behind the scenes for how they've transformed those archival interviews into engaging personal portraits of known and unknown champions, heroes, and witnesses to history. Along the way, they'll share excerpts from their favorite episodes, which have been downloaded 1.5 million times in 206 countries and territories around the world.
Eric Marcus is the creator and host of Making Gay History. Eric is also the author of a dozen books, including Making Gay History, Is It A Choice?, Why Suicide?, and Breaking the Surface, the #1 New York Times bestselling autobiography of Olympic diving champion Greg Louganis.
Sara Burningham is co-creator and executive producer of Making Gay History. Sara is an independent audio producer who has donned headphones in just about every job in radio in the past fifteen years, including talk radio producer, foreign correspondent, news editor, and public radio reporter.
Event sponsored by the Fortunoff Video Archive for Holocaust Testimonies/Department of Manuscripts and Archives