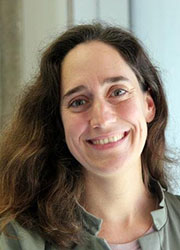 The Ivy Plus Libraries, a partnership of 13 leading academic research libraries, is pleased to announce the appointment of Galadriel Chilton as Director of Collections Initiatives.
Galadriel Chilton joins Ivy Plus from the University of Connecticut, where she oversaw e-resource management and was recently promoted to head of the licensing and acquisitions unit. Chilton brings to the position a proven track record of initiating and executing complex projects, and has an extensive record of professional contributions through instruction, presentations, and publication.  She earned her bachelor of arts at Berea College, and holds a master in library science from Indiana University, and master of arts in educational technology and instructional design from San Diego State University.
The Director of Collections Initiatives will facilitate the movement by the Ivy Plus Libraries toward fulfilling a vision of collection development and management that recognizes the partners' preeminent academic research and special collections as one great collection that supports the teaching, research, and public missions of the respective institutions as well as the global scholarly community. With collective collections as the objective, Chilton will serve as the principal planner, project manager, and negotiator for initiatives that promise substantial positive impacts in the development, management, and use of collections in any format. The Ivy Plus Libraries' initiatives will complement existing programs and partnerships. The Ivy Plus Libraries collections vision statement and guiding principles can be found here.
The Director of Collections Initiatives is organizationally based at Yale University, with Chilton working primarily through the Ivy Plus Collection Development Group consisting of representation from all the partner libraries in a participatory decision-making process. For more information about the initiative, contact Galadriel Chilton at galadriel.chilton@yale.edu.
About the Ivy Plus Libraries
The Ivy Plus Libraries are Brown, Chicago, Columbia, Cornell, Dartmouth, Duke, Harvard, Johns Hopkins, MIT, Princeton, University of Pennsylvania, Stanford, and Yale. Borrow Direct, a resource sharing network, was the Ivy Plus Libraries' first cooperative initiative and its success established the foundation for collective collections and other cooperative efforts. For more information about Borrow Direct, visit the website.
Photo: Galadriel Chilton, taken by Merlita Murphy