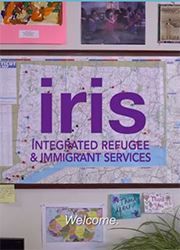 Between November 16-December 14, the Library Staff Association (LiSA) is holding a food drive, with drop-off locations in several Yale libraries. We invite everyone to donate non-perishable food items and personal care items to benefit IRIS (Integrated Refugee & Immigrant Services), a New Haven-based agency that helps resettle refugees in CT and provide lifesaving support to assist in their transition to life in the United States. Your donations will go toward stocking the apartments of resettled refugees and the IRIS food pantry.
Donation boxes will be located throughout the following libraries on campus (see map):
Sterling Memorial Library; Bass Library; Robert B. Haas Family Arts Library; Center for Science and Social Science Information; Divinity Library; Cushing/Whitney Medical Library; Lilian Goldman Law Library; and at 344 Winchester Avenue (where the library's technical services and preservation departments are located.
Items that IRIS is always looking for include:
White and Brown Rice (bagged/boxed); Chickpeas (canned/dry); Cannellini Beans (canned/dry); Canned Tomatoes; Pasta; Sugar; Salt & Pepper; Cooking Oil; Flour; Coffee; Tea; Coffee Filters; Canned Fruit in 100% Fruit Juice; Canned Vegetables; Shampoo & Conditioner; Deodorant; Soap; Toilet Paper; Tissues; $10 Grocery Store Gift Card
We CANNOT accept any food products containing meat or pork.
We will also be hosting a Virtual Food Drive to benefit the Connecticut Food Bank, where a few clicks will let you quickly and easily donate "food" and funds.
Please give during this festive time of year! Thank you in advance!
If you have any comments or questions about the food drive, please feel free to email sarah.davis@yale.edu.