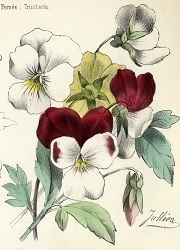 The garden is often thought of as a place of tranquility and repose. With the cycle of growth and the seasons, it is also a place of creativity and renewal. A myriad of shapes, colors, textures, sounds, and smells offer inspiration to the artist. The book arts also offer myriad options for an artist to express their engagement with the garden. Along with the traditional codex, miniature, folio, and interactive non-codex formats, as well as colorful illustrations and typographic interpretations transport the reader to this place of beauty and wonder.
The works in this exhibition explore topics such as gardens through the seasons, the beauty and utility of common weeds, and garden dwellers such as bugs and birds. Also included are books that document the use of garden plants for papermaking and that identify flower colors for the serious horticulturalist.
This exhibition is a companion to two exhibitions at the Beinecke Rare Book & Manuscript Library, 121 Wall Street. Happiness: The Writer in the Garden and Bird Watching are on display through August 12, 2017.