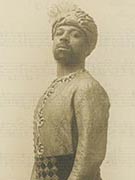 In conjunction with the opening of a new exhibit at Gilmore Music Library, students from the Black Sound and the Archive working group will give "lightning talks" and present their online sound archives for viewing and listening. The presentations are April 13, 10 a.m.-noon. in the Center for Teaching and Learning rooms facing the Music Library entrance. The Black Sound and the Archive Exhibition is in the exhibit cases outside the entrance and will run from April 13-July 30.
Related events with jazz pianist, composer, educator Jason Moran on Thursday, April 12. 
Black Sound and the Archive Working Group at Yale University is a two-year initiative supported by Yale's 320 York Humanities Grant that focuses on the history and significance of African-American sonic practices in tandem with a critical examination of the nature of archives. The group seeks to augment the very notion of what constitutes a black sound archive. Beyond historical sound recordings as such, African-American sonic practices are also embedded in a rich yet often opaque archive of extraordinary and everyday objects, photographs, narratives, performances, and repertoires. The group is led by Professor Daphne Brooks (African American Studies, American Studies, Theater Studies, Women's, Gender, and Sexuality Studies) and Professor Brian Kane (Music), and includes faculty, graduate students, and undergrads from Yale and beyond. It produces a variety of events, including workshops, performances, and exhibits.