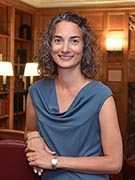 Susan Gibbons, the Stephen F. Gates '68 University Librarian and deputy provost for collections and scholarly communication at Yale University, began a one-year term as president of the Association of Research Libraries (ARL) on Sept. 26, 2018, at the association's fall meeting in Washington, D.C. 
The ARL is a nonprofit organization of 125 research libraries in Canada and the U.S. whose mission is to advance research, learning, and scholarly communication. The association fosters the open exchange of ideas and expertise, promotes equity and diversity, and pursues advocacy and public policy efforts that reflect the values of the library, scholarly, and higher education communities. ARL forges partnerships and catalyzes the collective efforts of research libraries to enable knowledge creation and to achieve enduring and barrier-free access to information. 
Gibbons joined Yale as university librarian in 2011 and was named deputy provost in 2015. In 2016 her deputy provost portfolio was expanded to include support of all the university's galleries, museums, and other collections, and the university press, with the goal of supporting interdisciplinary collaboration among these entities.
Gibbons has led Yale's libraries through a series of major facilities improvements and positioned Yale as a leader in digital realms, from digital preservation to the use of digital tools in humanities research. She has also fostered a new emphasis on the use of special collection materials in classes, student research, and student curated exhibits.
Gibbons holds an M.L.S. and an M.A. in history from Indiana University, a professional M.B.A. from the University of Massachusetts, and a doctorate in higher education administration from the University of Rochester. Prior to Yale, she held library positions at Indiana University, the University of Massachusetts-Amherst, and the University of Rochester.