Yale University Library News
February 1, 2011
Library Service Update: February 1
Due to weather and staff shortages, the Haas Family Arts Library will close early tonight at 9:00 pm.
Posted by Yale University Library on February 1, 2011 7:40 PM
February 2, 2011
Library Service Update: February 2
Due to the weather conditions, the libraries will open on a delayed schedule at NOON TODAY*. This delay is for both patrons and staff.
Eli Express deliveries are CANCELED for the remainder of the day. Special collections researchers should call an archivist or librarian before heading to the library this afternoon.
These libraries are closing early today, please consult the library hours page for updated closing times, including:

    Haas Family Arts Library, 5:00 pm
    Engineering and Applied Science Library, 6:00 pm
    Kline Science Library, 5:00 pm
    Social Science Library, 5:00 pm
    Yale Center for British Art Reference Library, 5:00 pm

*Additional closures:
Geology Library is closed.
Lewis Walpole Library is closed.
Updates will be posted here as needed.
Posted by Yale University Library on February 2, 2011 5:48 AM
February 3, 2011
Orbis Has A New Look
On February 7th, 2011, the Yale Library will introduce an upgrade to the Orbis catalog.
New features include:
• Cover images from books
• Links to tables of contents, limited previews and full text, when available, from Google Books
• The ability to filter results by format, date of publication and other criteria
• Easier export to tools such as EndNote and RefWorks
• Icons indicating format and availability
• The ability to include a subject field and notes when emailing records
• Stable URLs for each record in Orbis, for inclusion in ClassesV2 web pages and course syllabi
Classic Orbis will remain available through July at its current address: http://orbis.library.yale.edu.
You can begin using the new Orbis now at: http://neworbis.library.yale.edu/vwebv. We welcome your comments and feedback about this upgrade. Please use the Feedback links in the catalog, or send email directly to neworbis@collaborate.library.yale.edu.
Posted by Yale University Library on February 3, 2011 1:42 PM
February 7, 2011
Roberta Pilette receives 2011 Banks Harris Preservation Award
It was recently announced that Roberta Pilette is the 2011 Paul Banks and Carolyn Harris Preservation Award recipient. Ms. Pilette is currently the Director of the Preservation Department and Chief Preservation Officer for the Yale University Library. Her on-going impact on the preservation field as an active leader, educator, and mentor has spanned over twenty-five years, and she continues to be intimately involved in some of the most important explorations and discussions going on in the field today. She has influenced the development of our current preservation practices as well as shaped a generation of library and archives preservation administrators and conservators.
The Banks-Harris Award includes a $1,500 cash grant donated by Preservation Technologies, L.P., and a citation. The Award was presented during a ceremony at the American Library Association Annual Conference.
Posted by Yale University Library on February 7, 2011 2:00 PM
Law library exhibit marks centenary of Elizabethan Club
LIFE AND LAW IN EARLY MODERN ENGLAND: AN EXHIBITION MARKING THE CENTENARY OF THE ELIZABETHAN CLUB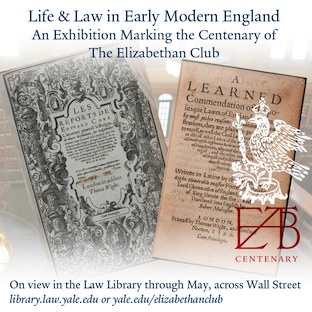 February - May 2011
Rare Book Exhibition Gallery
Level L2, Lillian Goldman Law Library
Yale Law School
127 Wall Street, New Haven CT
English law not only underwent deep changes in the late sixteenth and early seventeenth centuries, but also played a leading role in politics and culture. "Life and Law in Early Modern England," a new exhibit from the Lillian Goldman Law Library and Yale's Elizabethan Club, illustrates this period with works drawn from the rare book collections of both institutions.
The exhibit is on display February-May 2011 in the Rare Book Exhibition Gallery, located on Level L2 of the Lillian Goldman Law Library, Yale Law School, 127 Wall Street. The exhibit is open to the public, 9am-10pm daily.
The exhibit was curated by Justin Zaremby, a 2010 graduate of the Yale Law School, assisted by Mike Widener, Rare Book Librarian at the Yale Law School's Lillian Goldman Law Library.
"Life and Law in Early Modern England" is part of the year-long Centenary celebration of the Elizabethan Club, founded in 1911 as a meeting place for conversation and discussion of literature and the arts. For a complete calendar of Centenary events, visit <http://www.yale.edu/elizabethanclub/centenary.html>.
In conjunction with the exhibit, the Law Library and Elizabethan Club are sponsoring a public lecture by Professor Josh Chafetz (Law '07) of Cornell Law School, entitled "'In the Time of a Woman, Which Sex Was Not Capable of Mature Deliberation': Late-Tudor Parliamentary Relations and Their Early-Stuart Discontents." The lecture will take place February 24 at 6:15pm in Room 127 of the Yale Law School, 127 Wall Street.
In his introduction to the exhibit, Zaremby writes, "The occasion of the Club's Centenary provides the opportunity to bring together two impressive collections of early modern texts at Yale to illustrate a rich moment in English legal history." The books and manuscripts on display date from 1570 to the 1670s. They include guides to legal practice, textbooks, a play performed at an Inn of Court, and works dealing with church-state relations, legal philosophy, court jurisdiction, and the claim of Mary Queen of Scots to the English throne. Among the authors included are several of the era's leading figures, such as Francis Bacon, Francis Beaumont, Lord Burghley, Edward Coke, and John Selden.
For more information, contact Mike Widener, Rare Book Librarian, at (203) 432-4494 or <mike.widener@yale.edu>.
Posted by Yale University Library on February 7, 2011 4:18 PM
Last modified:
Wednesday, November 22, 2017 - 12:18pm